Who is Wangari Maathai?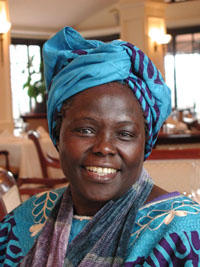 Wangari Maathai
Our educational center is named after the Kenyan environmental activist who won the 2004 Nobel Peace Prize. Wangari Maathai is internationally recognized for her persistent struggle for democracy, human rights, and environmental conservation.
She was the first woman in central Africa to earn a Ph.D. In the mid-1970s, she started planting trees with rural Kenyan women after she became aware of the consequences of soil erosion and deforestation in their daily lives. Deforestation combined with climate change has currently left 12 million people in a swath of Africa, including northern Kenya, without sustenance from the land on which they live.
She founded the Green Belt Movement there to create designated areas of park, farm, and uncultivated land around communities. "The Earth was naked," Wangari Maathai has said. "For me, the mission was to try to cover it with green."
Green Belt Movement is a broad-based, grassroots organization whose main focus is helping women's groups plant trees to conserve the environment and improve quality of life. Through the Green Belt Movement, she now has helped women plant more than 30 million trees on their farms, on schools, and on church compounds. Her Green Belt Movement has spread to 600 communities and into 20 countries.
Wangari Maathai knows what many in the West have forgotten: that ecological crises resulting from scarce natural resources caused by deforestation and other environmental degredation are the often the hidden root causes of conflict and war, as well as world poverty and global warming. In places as diverse as the Sudan, the Philippines, Mexico, Haiti, and the Himalayas, deforestation, encroaching desert, and soil erosion are among the present root causes of civil unrest and war.
In awarding Wangari Maathai the Nobel Peace Prize, the Norwegian Nobel Committee noted that when we analyze local conflicts, we tend to focus on their ethnic and religious aspects, but it is often the underlying ecological circumstances that bring the more readily visible factors to the flash point.